Our Luxury Tents have received such an overwhelmingly positive response, that we've decided to add more, and upgrade what we have!  Here's what you'll see this coming season…
Tent Upgrades – We have redesigned the original tents to make them more user friendly.  Zippers are being replaced with sliding doors for a more luxurious experience.  The inner tents and frames will be a tighter design, to reduce movement and add ventilation that is easy to control by our guests.  These upgrades will improve your glamping experience to make it the most relaxing and unique vacation you've ever had!
New Surfside Luxury Tents – We have opened up more spots along the beach to allow for another single room tent, and also a double room!  The double will have two separate tent bedrooms and bathrooms, joined by a common deck, perfect for families or multiple guests.   These new tents will have a unique design.  We're so excited, we just had to give you a sneak peak of the computer renderings!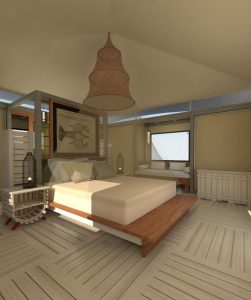 Social Share